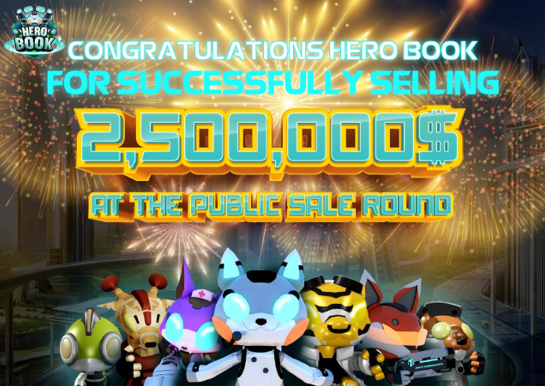 Initial token offerings are often a potential opportunity for investors in the cryptocurrency ecosystem. Buying tokens at the open sale price can be a very "good deal". Along with the rise of DeFi and DEX, IDO also received a lot of attention from the crypto community.
So what makes HeroBook reach an "impressive" figure of $2.5M in the last IDO round, let's review the highlights that make the HeroBook different!
What is Herobook? What makes a unique Herobook ecosystem on the market today?
Introducing HeroBook
Hero Book, a new addition to NFT Games, is bringing a novel concept of Battle to earn (B2E). Inspired by a cosmic land named, CyberPlanet, the B2E model is much more efficient than play to earn. Hero Book has a diverse ecosystem with 3 different gameplay Hero Book, Heroland, and Herocard that makes it much more interesting. Developers have ensured that gamers can experience different gameplay with no intervention.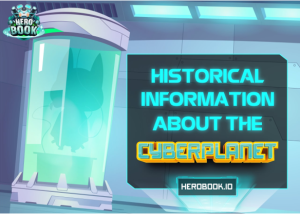 HBG aims to become a Metaverse that connects blockchain game networks and NFTs into traditional games in the international market. NFT Hero and HBG Token will link all the games in Hero Book to form a strong ecosystem.
With only 1 NFT Hero and HBG Token, players can start to discover all 3 main Hero Book titles and other game platforms in the future.
HeroBook's diverse and unique ecosystem
Some popular NFT Games like Axie Infinity and Thetan Arena of 2021 have used play to earn models. The problem with these games is that they are adopting the pattern of the traditional game and intervene a lot during the game.  Hero Book is solving all these problems and providing a unique user experience.
Maybe you don't believe? Let's see what HeroBook has been doing in its ecosystem
HeroBook
Survival gameplay in which players have to participate in the arena to fight and collect the loot for themselves. HB is offering 20 characters with different characteristics and unique gameplay. This collected loot can be sold later.
The system of character classes such as: gunner, gladiator, tank, support with extremely diverse fighting instincts
Weapon system includes 4 classifications with hierarchical materials to ensure diversity
Heroland
Heroland is a virtual 1:1 version of Mars. This virtual Mars is divided into 167,000 land lots (10 X 10 plots each).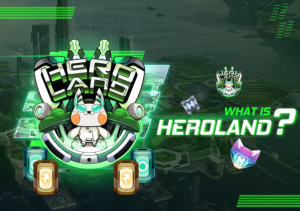 When owning land, players can use their NFT Hero to mine. Depending on the condition of the land, players can receive different types of minerals or HBG Tokens.
In addition, Heroland also has more resources to build the metaversae world for the next stage.
Herocard
This gameplay is specially designed to create simple card games, fast play, and fun for the participants.
The player needs to use an NFT Hero to start a hand, that Hero is also the player's trump card.
In addition to the NFT Hero, players need to pay attention to collect for themselves strong "auxiliary" cards to increase their chances of winning.
The "brilliant" potentials that HeroBook brings to investors who have, are and will own HBG Token.
The main reasons for HeroBook's success in the IDO round are:
Transparency: The opening of the token sale through the prestigious IDO exchange helps to attract many investors. Distribution is also easier and more transparent.
Token price: The price of tokens distributed for the first time in the community can be said to be the lowest price for individual investors, from the number of tokens obtained, investors can buy HeroBox early to prepare for playing the game or resold to someone who wants to play the game after listing.
Liquidity: Many investors choose to buy tokens at the IDO round because the listing schedule on DEX exchanges is available, ensuring quick liquidity.
IDO round tokens will be partially locked to ensure that the token price does not fluctuate sharply immediately after listing.
Safety: Through whitelist registration and distribution through reputable launchpad platforms, this helps many individual investors have the opportunity to access to buy tokens early, avoiding the fact that an organization owns too many tokens through different channels Anti-Whale measure.
Success Story
In addition to successfully raising capital up to $2.5M, HeroBook also recorded strong interest in HeroBox investment.
Many investors decide to buy HeroBox early to receive incentives and be ready to participate in the Game, HeroBook has reached sales of more than 10,000 Boxes and continues to increase.
What is the opportunity for interested people who have not purchased IDO round tokens?
Herobook will soon list on DEX exchanges, creating conditions for some individuals to invest in the IDO round to take profits early and an opportunity for those who do not yet own tokens to want to participate in the ecosystem before the token price rises too high.
How many HBG Tokens are needed to own HeroBox?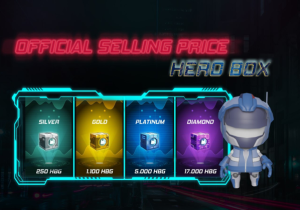 – Silver Box is sold for 250 HBG Tokens
– Gold Box is sold for 1,100 HBG Token
– Platinum Box is sold for 5,000 HBG Tokens
– Diamond Box is sold for 17,000 HBG Token
Please keep an eye on the listing schedule of DEX exchanges to buy tokens, a "Golden" opportunity when you want to own HeroBox!
Why should own HeroBox?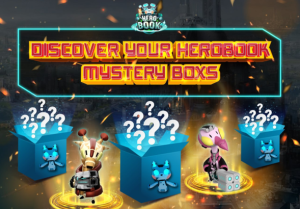 New Battle to Earn mechanics
B2E was created and first appeared in the game NFT Herobook. It can be said that, with the Battle to Earn mechanism, players can earn assets based on the blockchain platform exactly like the old play to earn model. But it brings many outstanding advantages, which can be mentioned as:
Battle-To-Earn is a tool that appreciates each player's individual abilities and tactics;
Ensure transparency, freedom to directly oppose each other without the intervention of machines or manufacturers;
Players participating in this model can automatically increase their profits, if there is good strategy and high thinking, the profit rate can be very high.
Unique NFT character system and application in a variety of game platforms.
Experience a high-class game platform with beautiful graphics – highly entertaining and suitable for a wide range of players.
Diverse ecosystem
A diverse community where players will interact with other players with attractive graphics and the opportunity to earn big profits.
The value of NFT characters in Hero Book is created by the player's skill and tactics. Therefore, the game always ensures fairness and carries a very high value.
NFT items and collectibles that the player owns can be traded on the market for different values depending on the rarity, equipment, and level of the character.
Balance
HeroBook focuses on creating a value ecosystem and profiting from the flow of value in the ecosystem. Only use HBG token for all transaction and reward needs of the system.
Collect transaction fees and pay profits to token holders.
Continuously expand and connect the ecosystem based on real value.
Conclude
The mechanism developed by the diverse HeroBook ecosystem is far superior and more unique. With tactical gameplay, diverse character system, skills and Battle to Earn model! Surely the game will attract a large number of players. NFT is an ever-growing market with as much potential as we have seen in the last two years.
Take a look at video How to buy Box and Hero with HeroBook: https://www.youtube.com/watch?v=rB8WqxWnNKg
Follow us on official social media to see the latest information about the project.
Website | Facebook | Announcement | Twitter | Youtube |  Discord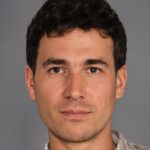 I'm a highly experienced and well-respected author in the field of cryptocurrency. I have been writing about Bitcoin, Ethereum, and other digital assets for over 5 years. In addition to my career as an author, I'm also a highly sought-after keynote speaker and consultant on all things crypto and I'm passionate about helping people understand this complex and often misunderstood industry.